Have you got Travel Insurance to cover you or a member of your family for Cheerleading Worlds 2022? 
The Cheerleading World Championships will be held at the ESPN Wide World of Sports Complex, Orlando, Florida.
Dates: 23rd to 25th April 2022
We recommend booking the travel insurance early so you can provide this to your trip organisers, please follow the steps below on how to obtain a cheerleading policy for this Event.
---
Obtaining a Travel Insurance policy for Cheerleading Worlds 2022?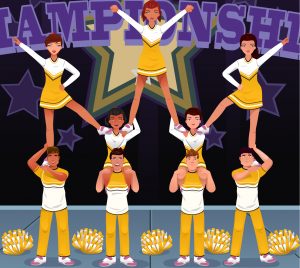 You will require a specific cover for Cheerleading which includes Stunting such as Acrobatics and Somersaults. We can cover you:
Typical Premiums are £99.00 for up to 5 days and £113.00 for up to 7 days in the USA.
When obtaining a quote please select Cheerleading and Gymnastics as the Activities. This will automatically cover you for a competition and training.
Personal Liability and Personal Accident are covered.
To get a quote by telephone or email, contact us on 0800 043 0020 / support@jsinsurance.co.uk
If you are cheerleading without stunting and tumbling you can get a quote HERE 
---
Questions asked by customers about our Cheerleading cover.
1. If I were to get injured or have an accident during Cheerleading Stunting or Acrobatics, Am I covered?
A: Yes you will be covered under Medical and Emergency Expenses and Repatriation up to £10,000,000.
2. Am I covered for COVID-19 on this policy?
A: You are covered for Covid-19 on this policy if you contract it whilst you are away. The cover includes Medical Expenses and Repatriation.
NB: Medical is covered for Covid-19 with this Policy but not Cancellation or Overseas Return Quarantine. We do have a policy that will cover this, please contact us for a quote.
3. Does this policy include Personal Liability?
A: Yes this policy will cover up to £2,000,000 for Personal Liability, This is important when traveling to the USA, you should check if the event organizer holds a Personal Liability policy also.
4. Can you cover an Independent Child on this policy?
A: You can book a policy for a child (17 years and under) on his/her own, however, he/she must be accompanied by an Insured Adult on the trip.
5. Can I get cover for just the days my child is Cheerleading?
A: Yes you can start the policy when you start training and competing whilst abroad and finish the policy when you have stopped.  You can select Adventure Part A cover only.
6. If I am not stunting or tumbling and just require cheerleading travel insurance, can JS cover me?
A: Yes JS Travel Insurance has a policy that can cover you for Cheerleading (Amateur Competitions) GET A QUOTE.
PLEASE NOTE: This will strictly not allow any Stunting and you will not be covered for this. This is only if you are ground-based and No lifting or acrobatics.
7. Can I get cover for cheerleading if I have a Pre-existing Medical Condition?
A: Yes, you can get cover including a pre-existing medical condition by simply going through the medical screening questions.
Please Note: This is important as if you have to claim and you have not declared your pre-existing medical condition then the Insurer may not accept the claim.
---
History of Worlds: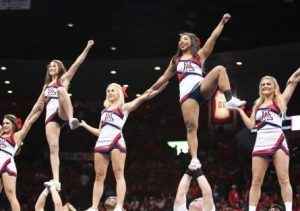 The Cheerleading Worlds began in 2004 with just two divisions and now hosts hundreds of teams competing in over 25 Divisions. Thousands of young athletes from across the world compete for the world champion title. Worlds is the final end-of-season event for senior-level six and seven teams.
2022 Division competing: 
Ages 14+ compete in the following divisions:
Extra Small Senior 6
Extra Small Coed 6
Small Senior 6
Small Coed 6
Medium Senior 6
Medium Coed 6
Large Senior 6
Large Coed 6
Limited Extra Small/Small 6
Limited Extra Small Coed 6
Limited Small Coed 6
Senior Open 6
Senior Open Small Coed 6
Senior Open Large Coed 6
IASF Open 5
IASF Open Small Coed 5
IASF Open Large Coed 5
IASF Global Club 6
IASF Global Club Coed 6
IASF Open 6
IASF Open Small Coed 6
IASF Open Large Coed 6
IASF Non-Tumbling 6
IASF Non-Tumbling Coed 6
IASF Open 7
IASF Open Small Coed 7
IASF Open Large Coed 7
IASF Open Non-Tumbling 7
IASF Open Non-Tumbling Coed 7
---
Worlds Video:
---
Other cheerleading competitions we have covered for this year:
ICU World Cheerleading Championships – Friday 20th to Sunday 22nd April 2022
UMASS Cheerleading World Championships – Saturday 23rd to Monday 25th April 2022.
USASF Championships – Saturday 23rd to Monday 25th April 2022.
The Summit – Thursday 28th April  – Sunday 1st May 2022
FutureCheer Barcelona – 10th – 11th June (Worlds 2023 Qualifiers)
FutureCheer Amsterdam – 14th May (Worlds 2023 Qualifiers)
---
Good Luck!
If you have booked via JS Travel Insurance for Cheerleading Worlds 2022 we would like to say Thank you and Good luck to you and your team!