Get Covered with a Ski Season Travel Insurance Policy
Whether you're doing a Ski Season in  France, Austria, Italy, Japan or Canada/USA, you should get Ski Season Travel Insurance policy to cover costs incurred such as Medical Expenses and Helicopter Rescue. 
Whether you'll be working as a Chalet Host, working in a Bar, Kitchen Staff or doing something else like babysitting,  JS Travel Insurance Ski Seasonaire Policies have got you covered. 
Or even lucky enough just to chill and do a Season without working. We will cover your recreational Skiing / Snowboarding too, including Off – Piste Unguided and Terrain Parks for every day of the Season.
Contact us on Freephone 0800 047 5065 or + 44 (0) 1273 773 017
Ski Season Travel Insurance Cover Highlights:
Medical & Repatriation Expenses, including Blood Wagon & Helicopter Mountain Rescue.
Off-Piste – Guided and Unguided, inside & outside of Resort Boundaries.
Cancellation or Curtailment.


Personal Baggage.

Delayed & Missed Departure.

Gadget Cover.

Return Home twice during the period of cover (up to 21 days per trip).


Flexible: you can upgrade your Policy during the Season to cover

High Risk Sports and Activities (eg off piste without a guide )  and extend the duration if your plans change.
Insurance Rates
Our Ski Backpacker and Longstay Policies have rates tailored to long durations, between 1 to 18 months. We can cover persons between 16-75 years old. Cover for pre-existing medical conditions is available too.
Here are some example quotes, all of which include On Piste Skiing and Snowboarding, plus cover for Ski Resort Occupations (but not including Ski Instructing):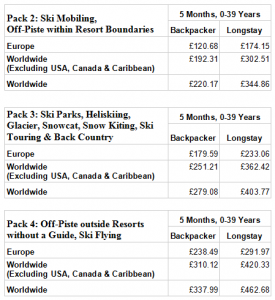 Buying Ski Season Travel Insurance after you've left the UK
The best rates for Ski Season Travel Insurance are undeniably lower, if you purchase your cover before you leave the UK. However, if you have already left the UK, do not fear – we can still cover you !
Please call us today for a Policy so we can get you protected before any potential injury occurs: 0800 047 5065
Important note: Some providers have Waiting List terms in place to avoid fraudulent claims, so please read your Policy Terms and Conditions carefully.
Going Off-Piste
Going for a Season means that you can explore more of the Ski Resort and also go Off-Piste in areas that are not restricted to Ski Patrols.
GET A QUOTE ONLINE  to cover this Activity, selecting the appropriate level of cover:
Pack 2 for Off-Piste in the Resort Boundaries
Pack 4 for Off-Piste outside resort Boundaries.
Our Policy allows you to Ski or Snowboard Off-Piste without a guide but not against local advice. This means no cover will be provided if there are Avalanche warnings in place or the local advice of the resort says you should not ski in certain. It is always best to map out your route before you head off for the day(s) and then check that with the resort's authority.
We would advise that you still do not ski or snowboard Off-Piste alone to ensure safety. Make sure you or your Guide have adequate experience for the planned route.
Special Equipment: This higher risk activity requires extra precaution. Here is a list of Equipment we recommend you carry with you to keep you safe, available at www.snowsafe.co.uk:
Avalanche Safety Course
Taking an Avalanche Awareness Course before you go will equip you with life saving skills, particularly if you go Off-Piste. You will learn to use your equipment effectively and how to test snow conditions as part of your risk assessment in the mountains.
Many of these courses can be done in the United Kingdom or abroad. Check your local listings or search Google for the best courses in your ski destination.
For examples, in Chamonix, France, Mountain Tracks and Chauvinguides offer a range of safety courses.
Get Fit !
Working and Skiing for months is likely to put a strain on your body. To maximise your enjoyment, you will need to prepare yourself physically and mentally too !
Build regular exercise into your routine months before you travel. Focus on strengthening your arms, legs and core.
When you arrive in your Ski Haven, keep an eye on your alcohol intake since good hydration levels are paramount in keeping you alert whilst On-Piste or Off-Piste.
Skiing / Snowboarding Equipment
There's a 50:50 split between those hiring their Winter Sports Equipment and those buying their own. Either way, make sure you've organised everything needed in advance.
Buying: There are a number of online and High Street shops who offer a great selection of products. Charity Shops may have something to offer too. Check existing equipment for wear and tear to see if it needs replacing, especially if you're Skiing or Snowboarding for several months.
Hiring: This convenience saves you lugging equipment from door to door and saves airfare costs too. Plus hire firms now offer up to date equipment. But depending on hire costs and the length of your stay, it may be more cost-effective for you to purchase your own equipment, so calculate what works best for you.
Essential Items to consider:
Helmet

Goggles

Snow Trousers and Jacket

Thermals

Ski / Snowboard Gloves

Ski / Snowboard Boots and Binding

Backpack
Visa Requirements & EHIC Card
Work and Travel Visas requirements can vary depending on which country you are travelling to. The UK Government Website has some useful guidance for your trip, but you should check with the Embassy of your destination country.
At the moment, travelling between European Union countries does not require any Work or Travel Visas. However, BREXIT may change this in the future.
The Visa Process can take some time, so start it early to avoid disappointment.
If travelling within the European Union, you should have a valid European Health Insurance Card. Apply Online.  
Useful Links: Holiday Companies that Specialise in Off-Piste
Travel Insurance for other Wintersports, please click on the links below:


01273 773 017 / 0800 047 5065